Over 2,000 kilos of plastic collected and 1,500 "plastic hunters" recruited around the Italian coasts in 2018.A great start for Medplastic, the association we created to protect the Mediterranean: now it's time to do more. We need even more sailor-activists willing to 'get their hands dirty' and help us clean up our sea of plastic and trash (by the way: join HERE!).
That's why the 2019 "No Plastic" contest is your chance to get involved and save the Mediterranean: the rules are below, the competition is open!
HOW THE NO PLASTIC CONTEST 2019 WORKS
You have from now until the end of September to take a photo (or record a video) every time you see, collect or prevent litter at sea.
Send it to the @giornaledellavela inbox on Instagram (or post it to the Medplastic Team Facebook group): remember to include where and when the photo was taken (or video shot) and to include the hashtags #medplastic and #savethemed.
The image and videos will be posted on the Sail Newspaper's Instagram profile, and from the photos with the most "likes," the GdV jury will choose the best three. The authors will be honored at the 2020 TAG Heuer VELAFestival!
A… SEA OF PRIZES
Among all those who send us their photo testimonials documenting the collection of floating garbage at sea, or on the beach, we will reward the three most "active" ones.
Just as we did at the TAG Heuer VELAFestival where the three winners of the 2018 contest took home three pretty good prizes (and also in 2019 we have very appetizing prizes planned for you, we will reveal them soon): an eKoala bioplastic baby food set for the third place winner, Alessandra Tixi by Outdoor Portofino (with whom we organized a clean-up of Santa beach during the VELAFestival), a fish-shaped sculpture made from trash found on the beach by Luca Buono (aka Goodfishes Recyclingart) for the runner-up, Carla Illuminati.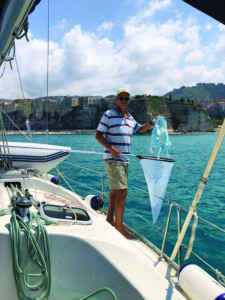 Timothy Lucie-Smith, a British sailor who has been residing in Italy for a long time and who travels around the Mediterranean with his boat hunting for garbage and inundated us with photos of his "catches," won.
For him a material recognition, namely a long weekend aboard Fabio and Marina Portesan's Oceanis 430 Gentilina in the Aegean and the satisfaction of being our "muse." We were inspired by him and his inseparable anti-plastic net for the illustration in the opening and the one accompanying the Ecomarine Manifesto.
TIME TO ACT.
Time to Take Action is the slogan of Medplastic, the project of the Journal of Sailing and Powerboats to safeguard the Mediterranean. Join the MedPlastic Team Facebook group, there you can post news, projects, photodenunciations, videos. And come visit us at the TAG Heuer VELAFestival in Santa Margherita (May 2-5) at the Medplastic Booth! In addition, if you have structured projects to propose that you think would be useful to the "cause," please send an email to savethemed@gmail.com. www.medplastic.org