The days that separate us from the beginning of the boat show are less and less(Cannes, Genova e  Montecarlo) and our review has reached the eighth episode: after seeing the top 10 of the boats from 14 to 15 meters, today we see all the best from 15 to 17 meters.
1 MAZU / 52HT | 15,70 m
The long-awaited 52HT finally comes. Aggressive yet elegant, she features a carbon composite hull for greater sturdiness and lightness. Power comes from two Volvo Penta IPS 800 (2 x 600 HP) engines for a cruising speed of 32 knots.
2 MARITIMO / M51 – M59 | 15,54 – 16,76 m
Two new entries for Maritimo. M51 and M59 (in the picture). The latter is a preview of the Flybridge range of the Australian yard.
3 NOVAMARINE / Black Shiver 160 | 16 m
Less than 22 meters long, the Black Shiver 160 offers a wide cabin and three 627hp outboards.
4 PRESTIGE / 520S | 16,11 m
The 520 has become "S". She stands out for her sunbathing platforms and a versatile astern bathing surface.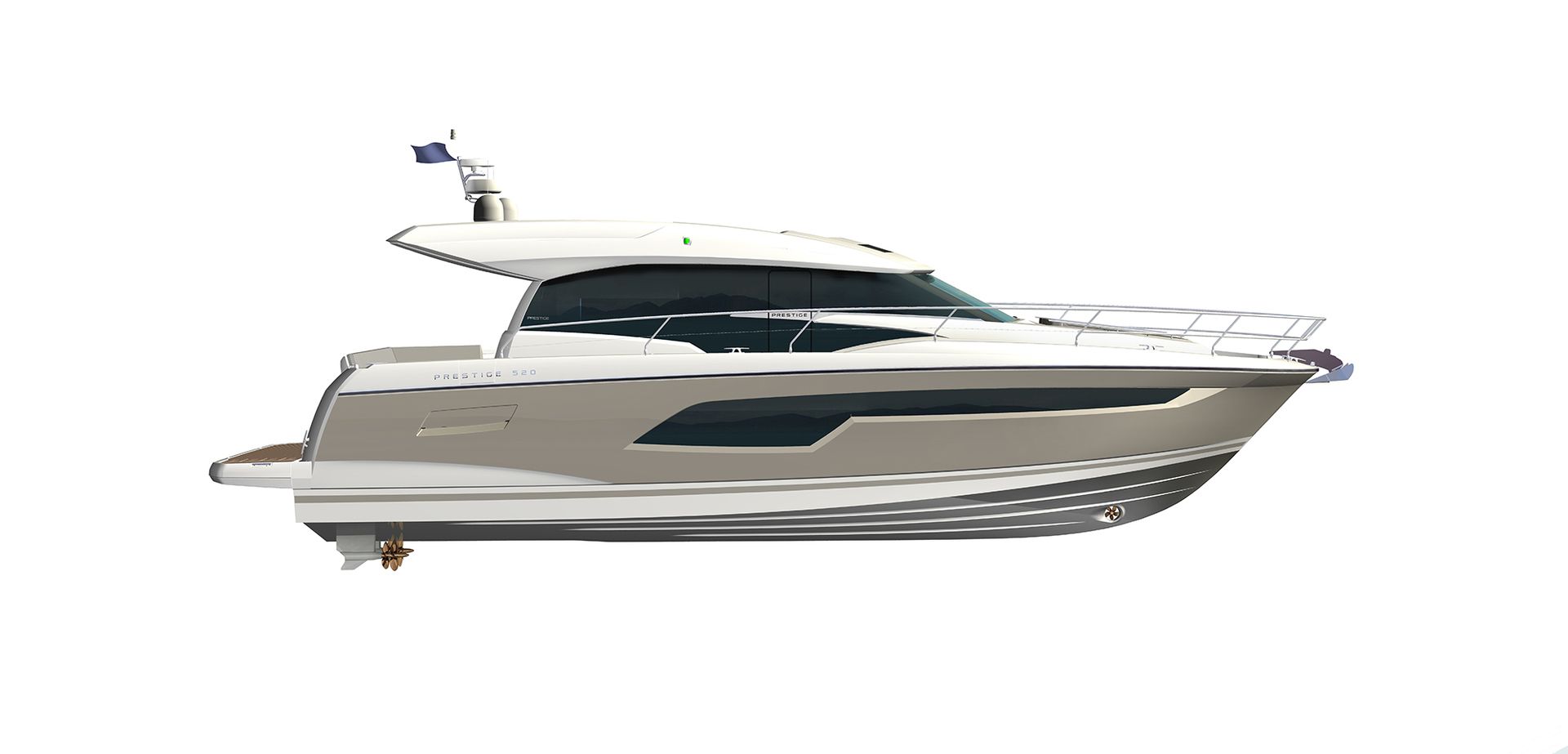 5 SESSA MARINE / C54 | 16,36 m
One among the most successful models of the range now is presented with new windows and topsides.
6 PALM BEACH / GT 50 16,40 m
Her official debut will take place in Newport next September. She is a fast cruiser that can reach a top speed of 40 knots and a cruising speed of 30. She will be offered in two versions, Express and Open.
7 DELTA / 60 Open | 16,50 m
100% made of carbon, the boat is offered in a IPS version with two Volvo Penta D8/800 engines for a top speed of 40 knots. The massive bow and the astern sun pad and bathing platform make her design harmonious. The night area consists of three cabins for 6 guests.
8 PERSHING / 5X | 16,51 m
Forerunner of the Pershing's X generation, this aggressive coupé features a cockpit and a salon that become a unique open space for the greatest comfort. The boat is offered in tw versions: 725 or 2×100 hp engines for a top speed of 36 and 45 knots respectively.
9 FERRETTI / FLY 550 | 16,76 m
Three modeloed windows, a forward living and high-level aerodynamics make the 550 un unparalleled flybridge boat. 17 meters long, the 550 looks like a real superyacht.
10 ZEELANDER / Z55 | 17 m
Presented last year, the Z55 is a 17-meter sport cruiser with unmistakable design. A sort of lobster of the future. Built in Holland with infusion technology, she guarantees great performances.
Speciale saloni | Primo episodio: le migliori barche da 4 a 8 metri
Speciale saloni | Le barche migliori da 8 a 9 metri
Speciale saloni | Le 10 barche imperdibili da 9 a 10 metri
Speciale saloni | 10 barche imperdibili da 10 a 11 metri
Speciale saloni | 10 barche imperdibili da 11 a 12 metri
Speciale saloni | 10 barche imperdibili da 13 a 14 metri
Speciali saloni | 10 barche imperdibili da 14 a 15 metri
All the news on the boat shows in Cannes, Genoa and Montecarlo
find them on the next number of Power Boats on sale from September 10th